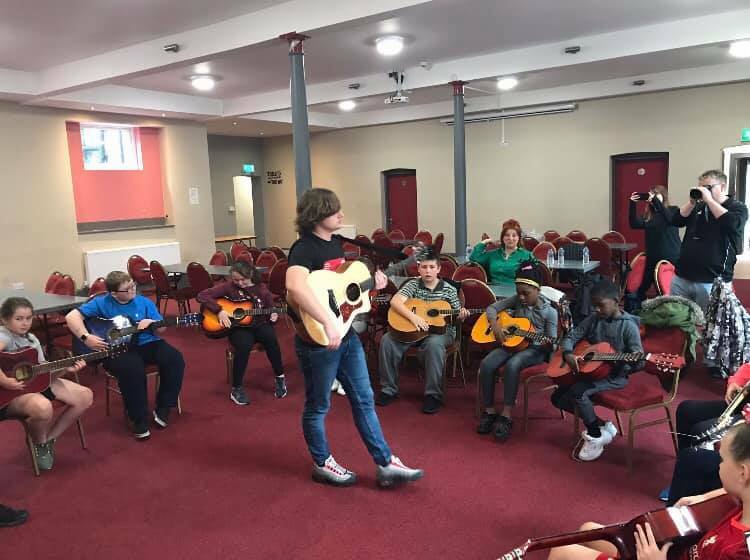 MAKING MEMORIES AND FRIENDSHIPS FOR LIFE - LEARNING, HAVING FUN & KEEPING FIT!
Wow, what an incredible year 2021 was, as we ran our children's half term and summer activity groups. There were so many amazing days and events packed in each week with great memories and friendships made for life!
Places for the groups booked up really fast, almost as soon as we put it out to our families, partner organisations and schools we had filled the 20 places.
OUTDOOR SURVIVAL - The first day of our summer groups was an outdoor survival day with Ex Royal Marine and special forces survival instructor Larry Collins. After splitting into teams and donning our camouflage paint we were ready for action! We took the kids out to Parbold where Larry had set out a 'treasure' hunt, the kids in their teams had to work together map reading around the woods to find buried 'treasure'! After that Larry showed the group how to start a camp fire safely. The kids had loads of fun trying out the hammock and building outdoor shelters from foraged branches and wood, we definitely had a good few Bear Grylls' in the making!
We then enjoyed a lovely dinner cooked over our campfire before heading off home, a great day for team building and learning loads of new skills out in the wild!
KIDS LEADERSHIP WORKSHOP - A hugely important value at An Hour For Others is inspiring change, we feel it's so vital that kids not only engage in activities but also learn along the way about the need for unity and being a leader in the communities they live. In our work shop we had loads of learning going on and also had an absolute scream! Some of what we spoke about included respecting each other and ourselves and the environment, how being different is something to celebrate and in fact makes us hugely unique. We also asked the children what types of things they want to see in their community to make them better and how we can work together to make it happen. We spoke about the future and explained to the kids how their futures were being created now, in these present times and we can build a really good one if we have values and morals.
MERSEY FERRY TRIP - The kids really loved their time aboard the Mersey Ferry, we sailed across to the Wirral and back and learnt loads about Merseyside on the way. Once again as with all our outdoor activities the weather was superb and you can't beat a ferry cross the Mersey in the summer time! We even had a huge luxury cruise ship docked at the Pier Head for us to admire.
BOXING SESSIONS WITH KIRKDALE ABC - The brilliant team down at Kirkdale boxing club do so much in their community every single day. Once again Ste, Dava & Jay-J were more than happy to give their time and skills free to our kids group and always deliver a great session that has the kids not only having fun but also keeping fit and active throughout. Gill even put on a pair of gloves and got in the ring with Kev to show him who's boss!!
HEALTHY SPANISH COOKERY & LANGUAGE WORKSHOP - Our good friends Dr hayley Tait (Health on the hob) and Sandra Scott (Chataway languages) joined forces and gave their time and expertise delivering a brilliant workshop for the kids. The day consisted of making a beautiful Spanish vegetarian dish which went down a treat! Hayley took them through the cookery class step by step while Sandra was on hand teaching the kids the Spanish words for all the ingredients and the process!
LEARN GUITAR WITH SCOUSE SUPERSTAR JAMIE WEBSTER! - Another good friend of ours is Liverpool musician Jamie Webster who has been taking the charts by storm and becoming a huge star in the music scene. Jamie is firmly rooted to the ground and loves helping the kids in the City of Liverpool as much as he can. Jay gave his day up to teach the kids how to play guitar and also to speak about never giving up and always following your dreams. The kids loved it and we all even had a sing along as Jamie performed his top tunes for the group, memories made forever. Huge thanks to Mick at the Church Anfield for giving us the space and providing food and drinks for all the children. Also a big shout out to the wonderful Florrie and Timo Tierney who is another great scouse musician who leant our group the guitars for the day.
COMMUNITY GARDEN DAY, FORAGING & COOKERY - Half term wouldn't be half term without our visits to another great organisation with a base in Knowsley called Alchemic Kitchen North West. Lucy and Keenan are two great people who always put on a fun day with plenty of activities. The kids got their hands dirty and helped dig up weeds around the courtyard and done a superb job tidying up which shows them the power of communities helping each other. Keenan then watched the kids as they planted some herbs and vegetables in the recycled bath tubs. Activities included, foraging for blackberries and apples to make a gorgeous crumble to take home, making pizza from scratch, foraging through the woods and fun and games in the outdoor space!

BEACH DAY! - We couldn't have picked a better day weather wise as we had a family beach day at Hoylake Red Rock beach. The day started with a perfect mindfulness and meditation session delivered by the lovely Amanda Williams (Zoti Project) we had a barbecue and then enjoyed an afternoon of fun and games at the beach in the glorious sunshine. It was heart warming to see all the families mixing so well and having loads of fun.
ALTON TOWERS - Kev, our founder always speaks to the kids about breaking through any fears they have and challenging themselves each day to be their best and not be scared. The kids were delighted to turn the tables and tell Kev he had to face his fear of fair rides and come to Alton Towers!! AHFO families set out on our coach trip to Staffordshire and had another day to remember at Britain's most famous theme park. The kids (and a terrified Kev) went on the Oblivion, The Smiler, Nemesis and Galactica amongst others! We can't wait till Summer 2022 to go again, well there maybe one person who isn't looking forward to going through it again! Face your fears Kev mate.
FOOTBALL COACHING - 7 elite academy have been alongside us for many years and coach Anthony Godfrey is always ready to deliver an amazing football session with the kids when he's in the UK at half term. The day is always a hugely popular one as the children are footy mad!
SCOUSE BOXER AND AHFO AMBASSADOR PETER MCGRAIL - Peter is one of our brilliant ambassadors and is a huge role model to the kids, we were delighted he came along to speak to the kids about his boxing career and his life growing up in Inner City Liverpool. Peter spoke about being determined, never giving up and always trying your hardest no matter what.
LAVENDER BUDDY - A great organisation that set up to help young children cope with traumas, build confidence, self worth and self love through scented cuddly toys and activity packs. We loved having Lavender Buddy join us and work with some of the younger siblings who had gone through traumatic bereavement.